FLAM Conference 2022 – Before the Conference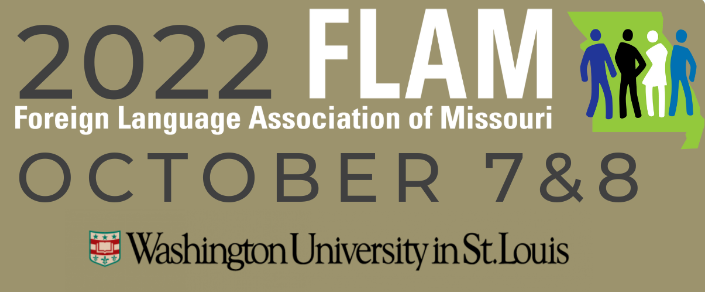 FLAM Conference 2022 – Before the Conference
We are week away from the 2022 FLAM (Foreign Language Association of Missouri) Conference at Washington University in St. Louis. Here is the link to register and check out the conference program:
https://www.flamnet.org/general-3

It will be a great opportunity for professional growth and to (re)connect with colleagues, as we are back together face-to-face. Plus, to top it all off, the keynote speaker is the amazing Akash Patel. This is going to be an exciting conference!

I'm looking forward to once again presenting with the talented Pat Brown. Our presentation is entitled: Conceptual Understanding is Key: Letting Go of the Minutia (Description below)

I will then present again on my own and this session is entitled: Entry Points into Culture. (Description below)

There are also many presentations by talented educators that I'm excited to see and learn from. Some of the sessions I am attending are"
Teaching Students to Write in the Target Language – Dr. Tonia Tinsley
Integrating Translation as Communicative Practice in the Language Curriculum – Martha Caeiro
Enhancing Understanding of Culture through Grammar & Expression Reflection – Hiroko Yoshii
I'll follow up with my experiences at conference and reflections afterwards. In the meantime, I hope to see you there!Mach's gut!
P.S. You can even join Akash and the FLAM Board for an optional visit to the Arch and riverboat cruise after the conference is over!
Session Descriptions:
Conceptual Understanding is Key: Letting Go of the Minutia
Presenters: Eric Richards, Pat Brown, Fort Zumwalt School District
Are you ready for both a science and language lesson? In this presentation, we bring together overlaps from the science and world language classrooms. We look at how we can use students' ideas about language, science, discourse, and communication to develop conceptual understanding and new language learning. At the heart of this work is sequencing instruction so students have "explore-before-explain" experiences where they engage in active meaning-making that builds on prior knowledge.
Entry Points into Culture Language
Presenter: Eric Richards, Fort Zumwalt North High School
In this session, attendees will look at how to find and use "entry points" in stories to help access culture. They will learn to use different strategies and activities to help incorporate culture before, during and after reading. Attendees will also learn how to drive interactions with the text and class that not only increase student engagement, but also support language learners' cultural understanding and competence.