Yesteryears with Eric Carle and the German connection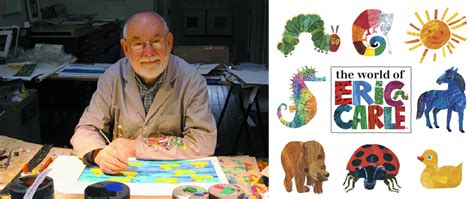 Yesteryears with Eric Carle and the German connection
I read constantly across all genres and topics, both fiction and non-fiction. In short, I enjoy reading. I enjoy discovering something new, and I especially enjoy learning about new places and people. With this in mind, I thought I would share a note with you about an article I read in German Life. (See note below about German Life.)
One of the sections of German Life that is always insightful to read is their "Yesteryears" section by Barbara Selig and Mary Selig. This section contains brief biographies about Germans and German-Americans and how they shaped and affected American life, history, politics and science. Some of the names are readily recognizable, but many of them are not. When I read this section, I am always amazed at what others have accomplished and the influence and effect they have had on (North) American culture and life. (And many times, one most likely has never heard of them!)
For example: Maurice Ralph Hilleman. Go look him up and you'll better understand what I mean. Outside of a few circles, most don't know him, but what he developed relates rather well to our current times. And, yes, this means now! You can continue reading this post when you are finished.
(See? Wasn't that interesting! He saved millions of lives and most of us have never heard of him!)
Now I would like to share a little about a more recognizable name – Eric Carle. Yes, the author and illustrator of books such as: The Very Hungry Caterpillar and Brown Bear, Brown Bear, What do you see? Although I readily know his name and read his books to my children when they were younger, I have to admit that I didn't know about his life and background. I didn't even know that he was a German-American. In light of that, I thought I would share a few highlights about his life:
– Born in Syracuse, New York to German parents – Erich Carle & Johanna Oelschlaeger Carle
– His mother was homesick and in 1934 the family returned to Germany and settled in Stuttgart.
– He was sent to the countryside to escape bombings in WWII and when he was 15, he was forced to dig trenches on the Siegfried Line with other German teenagers and Russian POWs.
– An art teacher secretly taught him about modern art during this time. (His father was a would-be artist and taught Eric to love nature.)
– In 1952 he returned to the U.S. with only 40 dollars in his pocket.
– His first job in American was with the New York Times as a graphic designer in the promotion department.
– His picture book The Very Hungry Caterpillar, first published in 1969, has been translated into more than 66 languages and sold more than 50 million copies.
– He illustrated more than 70 books, most of which he also wrote, and more than 145 million copies of his books have been sold around the world.
There you have it. I hope you can now say that your learned something new today.
Lastly, I would like to note here that this information comes from German Life in the "Yesteryears" section, November 9th, 2021.
(I encourage you to subscribe to German Life. It is available, both in print and electronically. You won't be disappointed.)Note: "German Life is a bi-monthly magazine written for all people interested in the diversity of German, Austrian, and Swiss culture yesterday and today, and in the various ways that North America has been shaped by its German heritage element. The magazine is dedicated to solid reporting on cultural, historical, social, and political events."